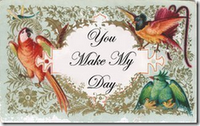 Christine from
Serenity How?
(whose witty blog always brings a smile to my face) surprised me with this little compliment today. Thank you muchly! Of course I can't keep this compliment to myself since it came with a few guidelines and because others deserve it too!
Here are the guidelines:
The rules for the "You Make My Day" award are to present it to people whose blogs bring you happiness and inspiration and make you feel happy about blog land. Let them know through email or by posting a comment on their blog so they can pass it on. Beware you may get the award several times yourself, and if you do, consider yourself really, really loved.
Here is a new blogger, a fellow mom, and a true inspiration who definitely deserves this little honor:
Karyn at
Karynspoogmaster
And Dianna at
Sincerely Me
often makes my day too!